Mulching With Professionalism

Fill out the quote request form and we'll email you a link to view your proposal & schedule your service online -- it's that easy!
Season To Season We Give You A Reason To Use NV Service Group.

The Easiest Mulching Quote You'll Ever Get...

Have The Best Garden In The Neighborhood With Professional Mulching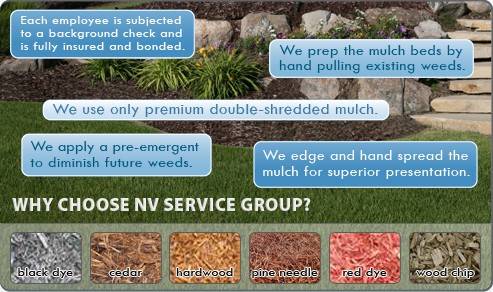 Frequently Asked Questions
When should mulch be applied?
Mulching can be applied any time of the year in order to regulate soil temperatures and provide nutrients to trees and shrubs. At NV Service Group, the majority of our mulching services are completed in March.
Is colored enhanced mulch safe for plants and animals?
Yes. The raw materials used to make color enhanced mulch are made from naturally occurring colors found in the earth's surface and are specially formulated to be nontoxic to plants and animals.
Does mulch contain termites?
No. Mulch is created by grinding or shredding wood at high temperatures that would kill any potential termites.