When today's property owners need an experienced service partner, the company they turn to is NV Service Group.
Since 1998, NV Service Group has been helping busy Northern Virginia property owners by providing quality Gutter Cleaning services. As such, we are relied upon to clean and maintain unique properties to establish lasting beauty. With a reputation for unparalleled knowledge and technical ability, superior customer service and retention, and a clear understanding of customers' needs, we turn everyday service into a one-of-a-kind experience.
Past, Present, Future
NV Service Group was created with a passionate desire to provide a superior level of service with an overwhelming push towards simplicity. We unwaveringly strove to offer straightforward service and streamline customer interactions. What eventually set us apart was our no-nonsense focus on customer satisfaction.
Simple, efficient, and get the job done are the core concepts of NV Service Group, even today! From startup to present day, we have continued to increase our effectiveness through the implementation of new technology. From our simple online proposal format, easy and friendly communications at the click of a mouse, and crisp delivery of our services, we offer a calm in the storm against the backdrop of Northern Virginia's hustle and bustle.
As we press forward, our customers will remain the directors of our future. We will adapt to their needs and stay at the forefront of market trends. By joining with NV Service Group, you can spend less time maintaining your property and more time enjoying it.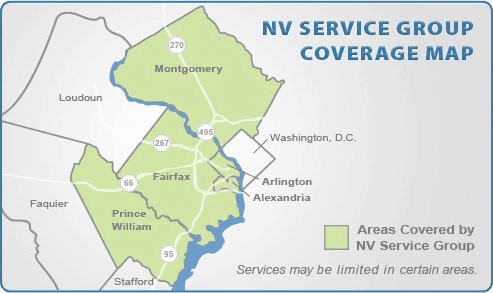 Services
We offer Gutter Cleaning services.
Additional services are provided upon request to meet the needs of our current customers and provide a more complete service offering. When in doubt, just ask!
Coverage Area
Our crews provide service all over Northern Virginia including but not limited to Alexandria, Annandale, Arlington, Burke, Centreville, Chantilly, Fairfax, Fairfax Station, Falls Church, Herndon, Lorton, McLean, Reston, Springfield, and Vienna. Coverage also extends into Prince William and Montgomery County. Services may be limited in certain areas.